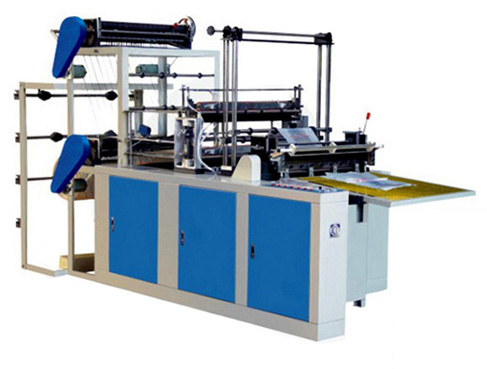 Specifications
Characteristics:
It is an ideal machine for producing flat-bottomed & vest bag. The equipment is designed and manufactured on the basis of overseas advanced technology as well as domestic leading product of the same kind. As a fully automatic computer-controlled bag maker, it is mainly used to manufacture bags with films like PE, PP, PVC, etc. Equipped with various functions, such as photoelectric controlled automatic feeding, photoelectric color-code follow-up, double or quadruple feeding, double or quadruple sealing, motor speed and bag length control by computer, automatic pile-up, etc. This machine is an ideal one to produce vest bag, flat-bottomed bag and fertilizer bag.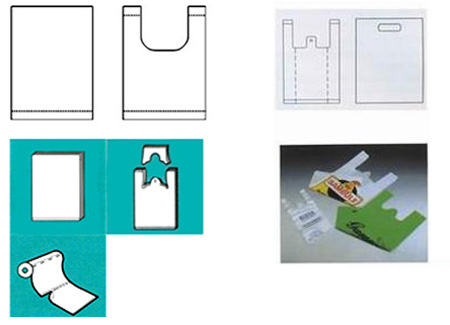 Features:
1. This machine is used for producing vest bags, flat-opening bags with printing.
2. The main motor adopts frequency control of motor speed to save more electricity and regulate speed more freely.
3. The color code tracker with good performance makes the sealing and cutting length more accurate and the error smaller.
4. It adopts advanced computer to adjust length more freely and accurately.
5. It could work max.4 lines same time.
Main Technical Parameter:
| | | | | | |
| --- | --- | --- | --- | --- | --- |
| Model | GFQ-600 | GFQ-700 | GFQ-800 | GFQ-900 | GFQ-1000 |
| Max. width (mm) | 550 | 650 | 750 | 850 | 1000 |
| Max. length (mm) | 1600 | 1600 | 1600 | 1600 | 1600 |
| Bag-making Thickness (mm) | 0.006-0.10 | 0.006-0.10 | 0.006-0.10 | 0.006-0.10 | 0.006-0.10 |
| Speed of bag-making (pc/min) | 40-120 | 40-120 | 40-120 | 40-120 | 40-120 |
| Power of motor (KW) | 1.1 | 1.5 | 1.8 | 2.0 | 2.2 |
| Electric Heating power (KW) | 1.2 | 1.5 | 1.9 | 2.2 | 2.5 |
| Total power (KW) | 2.5 | 3.2 | 3.8 | 4.3 | 5.8 |
| Machine weight (kg) | 700 | 820 | 860 | 900 | 1100 |
| Outline dimension (LxWxH) (mm) | 3100x1100x1800 | 3100x1200x1800 | 3100x1300x1800 | 3100x1400x1850 | 3200x1600x1850 |