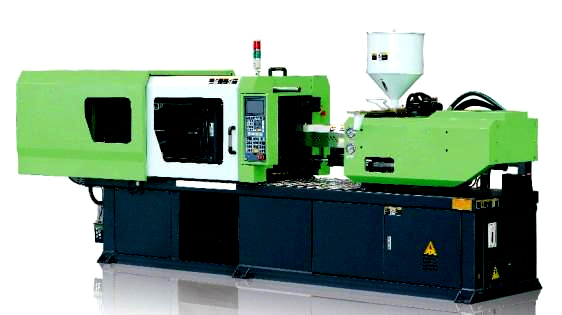 Hydraulic System: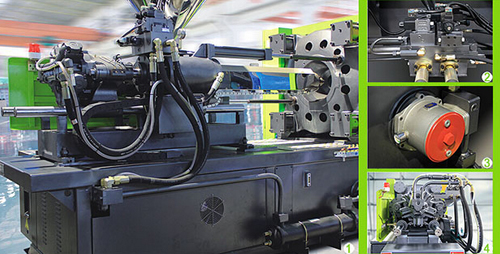 1. Large-flow hydraulic system with cartridge valves.
2. Imported top grade hydraulic components.
3. High-precision oil filter and full-flow by-pass oil filter.
4. Screw is driven by low speed & big-torque hydraulic motor.

•Perfect combination between computer and high efficient proportional plunger variable pump saves electricity by 25%-50%. The economic efficiency is high.
•With full flow high precision return oil filter, the oil filter effect is up to NAS –7 levels, can effectively avoid contamination and deterioration of hydraulic oil, thereby hydraulic parts work more stable and service life of hydraulic seals is longer.
•Imported advanced hydraulic valve incorporated with differential oil circuit guarantees mould locking device to be fast, stable and low noise, and reduces forming period, increase production efficiency.
•Cartridge valve added in the hydraulic system insures the fast response & small impact, which reduces the consumption of the pressure.
•Spiral flow cooler is high in heat transfer efficiency and less pressure loss. It guarantees stable operation of hydraulic system, improves repetition accuracy and qualification rate of products.
•Low speed and large torque hydraulic motor meets plasticizing demand of different raw material.
Controller System:

•Advanced switch power supply, with operating voltage between 110V and 280V, can be used in all severe power supply environment.
•High pixel (800 × 480) TFT screen with large capacity is used. Adjusting process is more intuitive, simpler in operation, the function is more perfect. It can also simulate the machine action.
•High speed CPU increases capacity for memory to meet the requirements of system control. Injection process also can be shown with graphic recording, makes it more easy for injection technique adjustment.
•It can store injection material information for 200 sets of moulds. Mould information could be selected, duplicated or removed conveniently. SD card can be used to read & save mould data, which is conducive for large-scale production management.
•With network communication port, it can realize the network management of injection molding machine. The work state of production and the factory can be monitored, to achieve the fully automation of production.
•Automatic detection of perfect function and a large number of internal parameters help to adjust the machine to the best state.
•Six stages material injection speeds and pressure, three stages pressure holding speed and pressure, and two stages material molten speed and pressure control can meet all complicated process requirement of products.
•Fuzzy temperature control is used. High and low temperature deviation alarm and thermocouple disconnection detection functions are available.
•Function to prevent cold material start-up.
•Mould clamping, injection, ejector adopt high precision electronic meter for position measuring. The position setting precision is up to 0.lmm.
•Push-out stay, ejector shock and multi push-out functions are available. Ejector forward and backward speed, pressure can be set separately in two stage.
•Counting of forming can be matched with automatic stop function for convenient production management.
•Default monitor: When machine works in automatic mode, computer may monitor the working condition in each period and judge if products and machine are normal or not.
•Computer controlled automatic lubrication devices: According to times of opening and clamping mould, lubricating oil output can be adjusted conveniently through computer.
•Automatic mould adjusting function. Input directly clamping pressure, the computer could automatically finish mold thickness adjustment.
•Information setting can be protected to prevent improper modification.
Clamping System:
•Five pivots double toggle mould clamping mechanism is featured with fast opening and clamping, stable and energy saving.
•Differential fast mould clamping device effectively reduces cycle time and increases working efficiency of the machine.
•Reliable low pressure protection function greatly prolongs the service life of the mould.
•T-Slot Platen makes fixing the mould in the machine more convenient.
Injection System:

Superior and efficient separating screw and high mixing screw increase the range of material used, and guarantee molten material to be uniform and stable.
Double cylinder balance injection mechanism provides high-pressure injection, easy maintenance and saves space.
Precision electronic meter control on material injection, molten stroke
Lubrication System: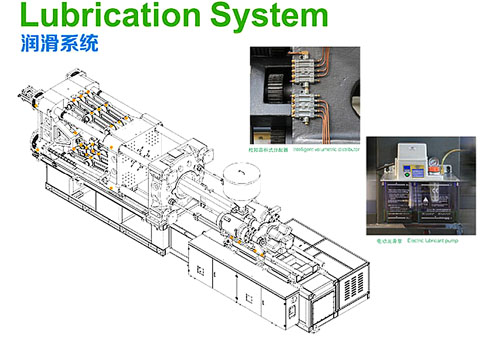 ·Major friction parts are equipped with lubrication points. Central oil supply system is used for hinges. Electric lubricant pump controlled by computer sends automatically lubricating oil (grease) to lubrication points. Lubrication is simple and high efficient.
·Intelligent volumetric centralized lubricating system, controlled by computer, sends quantitatively lubricating oil (grease) to wearing points, and guarantees that the key carrying surfaces are lubricated reliably. The repair is visual, convenient and fast. The service life of the machine is longer.
Device Configuration:
Standard devices
1 .Injection system
. Nitriding alloy steel screw charging barrel
. Standard injection nozzle
. Double cylinder balance injection unit
. Mobile hopper
. Anti-cold start-up of screw
. Automatic dislodging function
. Anti flow casting function
. Multistage charging barrel PID temperature control (4-7stages)
. Automatic inspection on material molten and material injection fault
. Precision electronic meter control on material injection/molten stroke
2 .Mould locking device
. Precision electronic meter control mould locking / thimble travel
. Mould locking three plates / Mould plate & toggle adopt high rigid nodular cast iron.
. Two stages ejector forward / backward movement controlled by computer
. Mould low pressure protection function
. Hydraulic mould adjusting device
3 .Hydraulic system
. High performance proportional variable pump system
. Molten material back pressure adjusting device
. Full flow precision return oil filter
. Automatic adjustment of system pressure and flow
4 .Control system
. Input / output viewing function
. Setting function of automatic temperature retaining and heating
. Time / position / pressure, three conversion modes
. Two-sets of hydraulic core pull / un-screwing mould release
5 .Accessory
. Operation manual
. Tool box
. Spare parts
Parameter
| | | | | | | |
| --- | --- | --- | --- | --- | --- | --- |
| Type | HD8500-6783 | HD10000-8362 | HD13800-11756 | HD1280-406 | HD1600-604 | HD2000-934 |
| CLAMPING UNIT | | T-shot platen | T-shot platen | | | |
| Clamping force, KN | 8500 | 10000 | 13800 | 1280 | 1600 | 2000 |
| Opening Stroke, mm | 1030 | 1150 | 1350 | 350 | 440 | 490 |
| Max. daylight, mm | 2080 | 2350 | 2750 | 750 | 940 | 1040 |
| Platen Size, mm*mm | 1550*1500 | 1700*1700 | 2000*1950 | 610*610 | 705*705 | 75*755 |
| Space between bars, mm*mm | 1030*1030 | 1100*1100 | 1420*1280 | 410*410 | 460*460 | 510*510 |
| Max. mold height, mm | 1050 | 1200 | 1400 | 400 | 500 | 550 |
| Min. mold height, mm | 380 | 500 | 600 | 145 | 160 | 230 |
| Ejector stroke, mm | 300 | 350 | 380 | 100 | 140 | 140 |
| Ejector force, KN | 290 | 290 | 300 | 42 | 49 | 65 |
| INJECTION UNIT | | | | | | |
| Screw diameter, mm | 90 100 110 | 100 110 120 | 110 120 130 140 | 36 42 46 | 42 46 52 | 46 52 60 |
| Screw L/D ratio, | 23.6 21 19.3 | 23 21 19.2 | 21 21 19.3 18.9 | 23.3 20.4 18 | 22 20 17.4 | 23 19.9 17.5 |
| Injection Pressure, Mpa | 227 184 152 | 205 169 142 | 200 168 143 123 | 259 190 159 | 213 177 139 | 230 180 135 |
| Shot volume, cm3 | 2990 3691 4067 | 4084 4942 5881 | 5892 7012 8229 9544 | 183 249 299 | 284 340 435 | 407 520 693 |
| Shot weight (ps), g/OZ | 2661/93.9 3285/115.9 3976/140.3 | 3635/128 4398/155 5234/185 | 5259/186 6258/221 7345/259 8518/301 | 163/5.7 222/7.8 267/9.4 | 253/8.9 302/10.7 387/13.7 | 362/12.8 462/16.3 617/21.8 |
| Injection rate, g/sec | 496 610 740 | 671 812 965 | 975 1160 1362 1579 | 69 95 113 | 105 126 161 | 119 153 203 |
| Plasticizing Capacity, g/sec | 73 87 106 | 85 106 121 | 97 124 152 175 | 14 21 23 | 19 27 36 | 28 38 55 |
| Screw stroke, mm | 470 | 520 | 620 | 180 | 206 | 245 |
| Screw speed, rpm | 120 | 115 | 107 | 160 | 210 | 170 |
| POWER UNIT | | | | | | |
| Hydraulic system pressure, Mpa | 17.5 | 17.5 | 17.5 | 17.5 | 17.5 | 17.5 |
| Pump motor power, kw | 37+37/32.7+41 | 55+37/49+41 | 37+37+37/49+41+41 | 11 | 15 | 18.5 |
| Heater power, kw | 42 | 42 | 54 | 7.5 | 9.8 | 11.5 |
| GENERAL | | | | | | |
| Dry circle time, sec | | | | 1.5 | 1.8 | 1.8 |
| Oil tank capacity, L | 1300 | 1600 | 1800 | 210 | 260 | 340 |
| Machine weight, kg | 44 | 50 | 70 | 3.8 | 4.5 | 5.8 |
| Dimension (LxWxH) | 10.5*2.6*2.7 | 11.0*2.9*3.1 | 13.0*3.0*2.8 | 404*1.2*1.8 | 4.8*1.3*1.8 | 5.3*1.4*2.1 |
an>