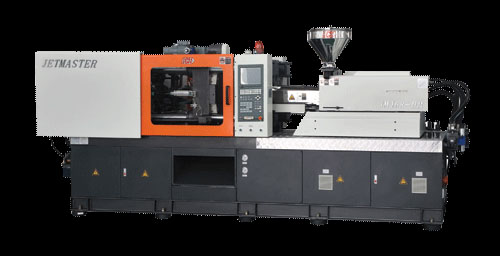 Mold Clamping structure
High circle speed, high precision, high rigidity, and high durability
High control precision of servo motor torque, and rigid connection of the ball screw and clamping system, correspondingly improve the mold opening/closing speed and position accuracy, and ensure an accurately platen moving thrust, and displacement deviation generated by platen movement inertia is under controlled, and the reliability and response accuracy of the action of low pressure mold protection is greatly improved. Safe security of using precision mold becomes better.

Injection System
High injection speed, high stability, high sensitivity, and high durability
Adopting four-column-frame structure and guided by four guide posts, the screw has an evenly balanced force during the process of injection, thus achieving steady injection molding.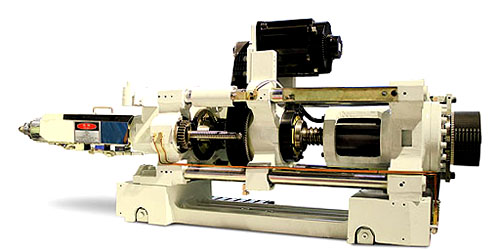 Speed faster
By using synchronous movement, circle time is greatly shortened, thus easily realizing high efficiency production.
Quality improved
High rigid power unit, high response servo motor, superior injection response and holding force, ensure the quality and consistency of products.

Clean environment
Program for Compression Molding
The compression cycle can be performed by easy programming. It's possible to freely programmed the mold movements to synchronize with the injection movements.
This belongs to the low pressure molding technology category. It has the effect to improve the internal stress characteristic property for plastic product, reduce distortion, and improve the product surface. With this control, the demands of injection force and clamp force parameters are truly optimized. It not only reduces the cost of equipment, but also greatly extends the equipment life time.
Parameters
Type

HDJE60

HDJE110

HDJE150

HDJE210

CLAMPING

UNIT

Clamping force, KN

600

1100

1500

2100

Opening Stroke, mm

270

360

420

550

Max. daylight, mm

640

840

940

840

Platen Size, mm*mm

510*510

585*585

700*650

900*860

Space between bars, mm*mm

320*320

410*410

520*470

620*560

Max. mold height, mm

370

480

520

600

Min. mold height, mm

150

150

180

220

Ejector stroke, mm

70

100

130

150

Ejector force, KN

20

30

35

55

INJECTION UNIT

80/80h

120/120h

200/200h

310/310h

Screw diameter, mm

18 22 26

22 26 30

26 30 36

30 36 42

Screw L/D ratio,

20 20 17

20 20 17.4

20 20 17

21 21 18

Injection Pressure, Mpa

250 220 157

260 220 200

260 220 160

260 206 158

Holding Pressure, Mpa

206 175 120

208 160 120

206 160 125

224 160 130

Shot volume, cm3

25 38 53

42 58 78

66 92 100

106 153 208

Shot weight (ps), g/OZ

21/0.7 32/1.1 45/1.6

36/1.3 49/1.7 66/2.3

56/2 78/2.8 85/3

90/3.2 130/4.6 177/6.2

Injection, mm/sec

200/350

200/350

200/350

200/350

Plasticizing capacity, g/sec

3.5 6 8.5

6 8.5 13

8 12 16

13 22 32

Screw stroke, mm

100

110

130

150

Screw speed, rpm

400

400

400

400

Nozzle pressing force, KN

15

15

20

25

Power Unit

Total electric capacity KW/A

19/35

29/51

37/65

45/75

Heater power, KW

5

7

8

10.5

General

Machine weight, ton

3

5.2

6.4

12.2

Machine dimensions

3.8*1.25*1.6

1.7*1.4*2

5.1*1.5*2.1

6*1.7*2.3