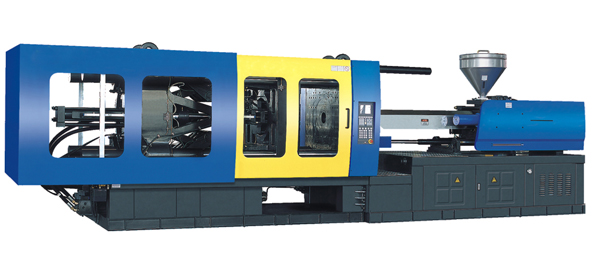 Features:
Energy saving |Excellent performance|Reducing production costs|Easy to operate
·Using variable pump hydraulic system to lower power consumption.
·Faster response, higher repetition, better stability.
·Injection molding with two materials or double colors at the same time, which can reduce the cost of the technology and the human resources.
·Very easy to set parameters and adjust hydraulic system with the digit control.
Working principle
The injection molding machine injects the first material into the mould and the plastic takes the shape. After the mould is open, the movable rotary mould platen turns around with the other work pieces by 180。then the machine makes the second injection after the injection nozzles is directed at the cavities of the mould and the mould is closed, and then finally takes shape; Or the first material injection and the second material can be done at the same time to take shape.

Parameter:
| | | | |
| --- | --- | --- | --- |
| Type | HD1300-196 | HD2000-1310 | HD4000-1664 |
| CLAMPING UNIT | | | |
| Clamping force, KN | 1300 | 2000 | 4000 |
| Opening Stroke, mm | 400 | 490 | 710 |
| Max. daylight, mm | 850 | 1060 | 1440 |
| Platen Size, mm*mm | 1060*1060 | 1252*900 | 1450*1100 |
| Space between bars, mm*mm | 720*410 | 910*510 | 1110*720 |
| Max. mold height, mm | 450 | 600 | 750 |
| Min. mold height, mm | 130 | 150 | 200 |
| Ejector stroke, mm | 120 | 150 | 180 |
| Ejector force, KN | 2*49 | 2*65 | 2*77 |
| INJECTION UNIT | | | |
| Screw diameter, mm | 26 28 30 | 30 36 42 | 42 46 52 |
| Screw L/D ratio, | 22.6 21 19.6 | 20 20 17 | 22 20.5 18 |
| Injection Pressure, Mpa | 234 202 155 | 266 185 136 | 213 177 139 |
| Shot volume, cm3 | 63 73 96 | 113 163 222 | 284 340 435 |
| Shot weight (ps), g/OZ | 60/2 69/2.4 91/3.2 | 106/3.7 153/5.4 208/7.2 | 267/9.4 320/11.3 409/14.4 |
| Injection rate, g/sec | 64 73 84 | 54 78 106 | 105 126 161 |
| Screw stroke, mm | 120 | 160 | 205 |
| Screw speed, rpm | 230 | 210 | 210 |
| POWER UNIT | | | |
| Hydraulic system pressure, Mpa | 16 | 16 | 16 |
| Pump motor power, kw | 11+11 | 14+14 | 32.7+32.7 |
| Heater power, kw | 7 | 6 | 22 |
| GENERAL | | | |
| Oil tank capacity, L | 210 | 180 | 630 |
| Machine weight, kg | 6 | 8 | 15 |
| Dimension (LxWxH) | 5*1.6*1.8 | 5.2*1.7*1.9 | 7.2*2.2*2.3 |