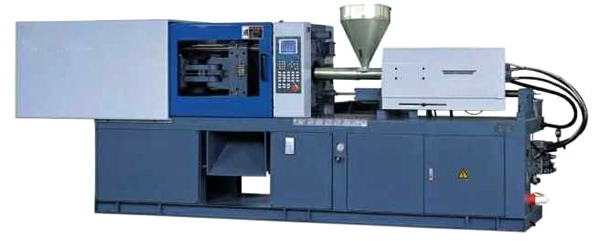 Features:
·Fast response proportional variable pump matches the hydraulic output and the need of running of the machine, without lost of high pressure over flow, which can save 25-50% power comparing with the fixed pump machine.
·Special design screw & barrel for Bakelite, which is made by high strength bi-metallic steel with special treatment, with the characteristic of good corrosion resistance & good abrasion resistance.
·Oil cooling device in the screw & barrel insures the precision of the temp.
·Mould open and exhaust
·Change of screw & barrel can be used as standard injection mold machine.
·Upgraded size of the injection motor with increase of injection pressure achieves better plasticization.
·Special design heat resolution plate is adopted in the mould platens.
·2 sets of interface port for the mould temp. control is provided with computer control
·High precision 0.1mm can be achieved with the electric sensor control
·Automatic mould adjustment is control by computer by entering the clamping force directly.
Mould platen Size

Technical Parameters:
| | | | |
| --- | --- | --- | --- |
| Type | HD900-300 | HD1200-380 | HD1600-730 |
| CLAMPING UNIT | | | |
| Clamping force, KN | 900 | 1200 | 1600 |
| Opening stroke, mm | 320 | 350 | 440 |
| Max. daylight, mm | 650 | 720 | 910 |
| Platen size, mm*mm | 540*540 | 610*610 | 705*705 |
| Space between bars, mm*mm | 360*360 | 410*410 | 460*460 |
| Max. mold height, mm | 330 | 370 | 470 |
| Min. mold height, mm | 100 | 115 | 130 |
| Ejector stroke, mm | 100 | 100 | 140 |
| Ejector force, KN | 34 | 42 | 49 |
| INJECTION UNIT | | | |
| Screw diameter, mm | 30 36 | 40 46 | 46 52 |
| Screw L/D ratio | 16 15 | 16 15 | 16 15 |
| Injection Pressure, Mpa | 266 185 | 166 125 | 177 139 |
| Shot volume, cm3 | 113 163 | 226 299 | 341 435 |
| Shot weight (ps), g/OZ | 136/4.8 195/6.9 | 271/9.6 359/12.7 | 409/14.4 522/18.4 |
| Injection rate, g/s | 71 102 | 113 150 | 161 206 |
| Plasticizing capacity, g/s | 13 19 | 22 30 | 28 38 |
| Screw stroke, mm | 160 | 180 | 205 |
| Screw speed, rpm | 184 | 180 | 204 |
| POWER UNIT | | | |
| Hydraulic system Pressure, Mpa | 17.5 | 17.5 | 17.5 |
| Pump motor power, KW | 11 | 11 | 15 |
| Mold heater power, KW | 6 | 7.8 | 9.8 |
| GENERAL | | | |
| Dry-cycle time Sec | 1.5 | 1.5 | 1.8 |
| Oil tank capacity, L | 180 | 200 | 260 |
| Machine weight, Ton | 2.8 | 3.2 | 4.5 |
| Machine dimensions (L*W*H) | 3.8*1.1*1.7 | 4*1.2*1.8 | 4.8*1.3*1.8 |
| | | | |
| --- | --- | --- | --- |
| Type | HD2000-934 | HD2880-1341 | HD3300-1902 |
| CLAMPING UNIT | | | |
| Clamping force, KN | 2000 | 2880 | 3300 |
| Opening stroke, mm | 490 | 550 | 6000 |
| Max. daylight, mm | 1010 | 1130 | 1270 |
| Platen size, mm*mm | 775*755 | 850*850 | 985*985 |
| Space between bars, mm*mm | 510*510 | 610*610 | 670*670 |
| Max. mold height, mm | 520 | 580 | 670 |
| Min. mold height, mm | 200 | 250 | 270 |
| Ejector stroke, mm | 140 | 145 | 180 |
| Ejector force, KN | 65 | 77 | 77 |
| INJECTION UNIT | | | |
| Screw diameter, mm | 52 60 | 60 68 | 68 75 |
| Screw L/D ratio | 16 15 | 16 15 | 16 15 |
| Injection Pressure, Mpa | 180 135 | 169 132 | 169 139 |
| Shot volume, cm3 | 520 693 | 792 1017 | 1126 1370 |
| Shot weight (ps), g/OZ | 624/22.0 831/29.3 | 950/33.5 1220/43.0 | 1351/47.7 1643/58.0 |
| Injection rate, g/s | 199 265 | 302 387 | 396 481 |
| Plasticizing capacity, g/s | 38 55 | 50 65 | 70 85 |
| Screw stroke, mm | 245 | 280 | 310 |
| Screw speed, rpm | 173 | 165 | 174 |
| POWER UNIT | | | |
| Hydraulic system Pressure, Mpa | 17.5 | 17.5 | 17.5 |
| Pump motor power, KW | 18.5 | 22 | 30 |
| Mold heater power, KW | 11.5 | 14.2 | 18 |
| GENERAL | | | |
| Dry-cycle time Sec | 1.8 | 3 | 3.2 |
| Oil tank capacity, L | 340 | 420 | 460 |
| Machine weight, Ton | 5.8 | 8.2 | 10.8 |
| Machine dimensions (L*W*H) | 5.75*1.4*2.1 | 6.2*1.5*2.2 | 6.8*1.6*2.3 |