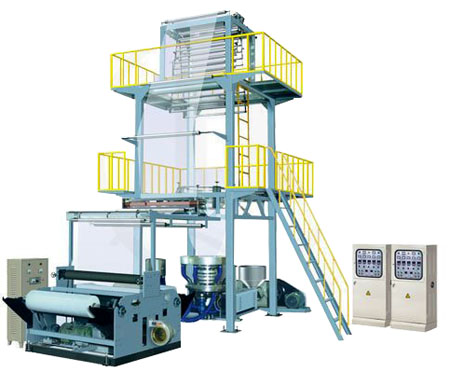 Use:

Machine by two extruders will be two kinds of the same or different composite materials, plastics co-extrusion head to squeeze into the produce through the co-extruded into a model of composite films, thus greatly improving the physical properties of the films to increase their strength, to make films with good barrier properties, gas tightness. The use of advanced continuous rotary machine head, the product formation, and uniformity is good, ensure the packaging machines, presses and other equipment to film the follow-up process quality requirements for production of composite Pearl film, composite liquid packaging film, insulating film, multi-functional agricultural film, etc., are gradually expanding the scope of its application, the development and direction of plastic products. It is used for blowing the plastic laminated film of low density polyethylene (LDPE), high density polyethylene(HDPE)and linear low density polyethylene(LLDPE)etc, Which are widely used for packing liquid, printed base material, products for export and industrial products, etc
Characteristic :

1. Double-layer co-extrusion laminated film can prolong the length for preservation of liquid package.
2. The cylinder and the screw stem of the extruder are made of high quality alloy steel with optimum hardness and durable service after precision finishing and nitrogen treatment.
3. The auxiliary machine has a platform working table for making operation easy and is equipped with bubble stabilizing ring.
4. Double-rolling and double-cutting coiling unit adopts torque motor to keep proper tensions and make rolling even and roll- changing easy.
Main technical parameters:
| | | | |
| --- | --- | --- | --- |
| Model | 2SJ-G50 | 2SJ-G55 | 2SJ-G60 |
| Screw diameter | ф50 * 2 | ф55 * 2 | ф60 * 2 |
| Aspect Ratio | 28:1 | 28:1 | 28:1 |
| Film folding diameter (mm) | 800 | 1000 | 1200 |
| Single film thickness (mm) | 0.015-0.10 | 0.015-0.10 | 0.015-0.10 |
| Maximum yield (kg / h) | 40 | 65 | 90 |
| Host Power (kw) | 11 * 2 | 15 * 2 | 18.5 * 2 |
| Heating Power (kw) | 26 | 30 | 42 |
| Dimension (mm) | 4200 × 2200 × 4000 | 4600 × 2400 × 4600 | 5000 × 2800 × 5000 |
| Machine weight (T) | 3 | 3.5 | 4.5 |